Sculptures that make novel use of books – in pictures
Oof, Y'all, Dictionary.com Just Added Over 300 New Words And Definitions
Sleeping or Dead? and other hilarious "practical books for librarians" in pulp classic form. [do yourself a favor and loot at them all!]
Serious Stuff
Famed Crime Reporter Shot in Head After Leaving Amsterdam TV Studio
Inside the Rash of Unexplained Deaths at Fort Hood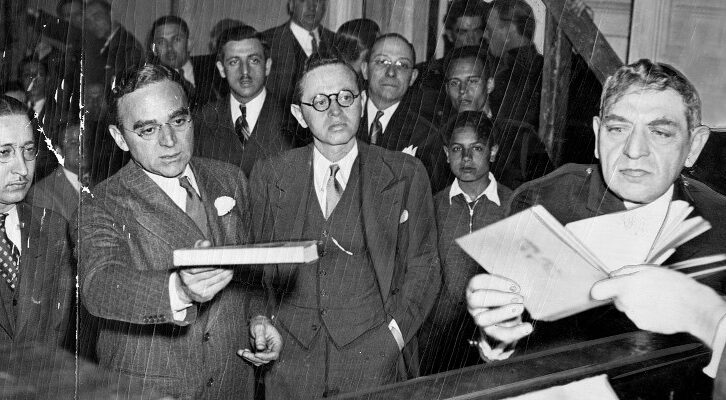 How the Banning of Joyce's Ulysses Led to "The Grandest Obscenity Case in the History of Law and Literature"
Booksellers at Hong Kong's book fair are being forced to self-censor their selections.
A Reporter's Fight to Expose Epstein's Crimes — and Earn a Living
Two men charged in alleged plot to firebomb California Democratic Party headquarters
Private Israeli spyware used to hack cellphones of journalists, activists worldwide
Local Stuff
Attorneys for woman accused of lying to grand jury in Thomas Wales killing want indictment dismissed
Powell's Books is celebrating its 50-year anniversary with a curated collection of 50 books
Alaska's libraries are facing devastating funding cuts
Portland literary icon Ursula K. Le Guin gets a Forever stamp
The days are getting shorter. Embrace the dark with 4 mystery and crime novels
SPECTRE
Fired by bot at Amazon: 'It's you against the machine'
Investigating Amazon, the Employer
Amazon Transformed Seattle. Now, Its Workers Are Poised to Take It Back.
Amazon Is Selling a Bogus 'Plandemic' COVID Conspiracy Book in Its 'Science' Section
FTC Launches Investigation Into Amazon's MGM Acquisition: Report
Amazon tells bosses to conceal when employees are on a performance management plan
Amazon Denied a Worker Pregnancy Accommodations. Then She Miscarried.
Amazon sued by U.S. product-safety agency over dangerous items
Rumored to Accept Bitcoin by End of 2021 and Develop Own Currency by 2022: Report
EU regulator hits Amazon with record $887 million fine for data protection violations
Odd Stuff
Woman Joined International Drug Syndicate to be Closer to Her Son, Court Hears
Now you can buy the glorious mansion where Mark Twain died
Cops Ignored Threat Posed by Menacing Clowns
The Scary Story Behind The Most Haunted Painting In History
Words of the Month
dreadnought (n.): Literally (one who or that which) "fears nothing," from the verbal phrase (drede ich nawiht is attested from c. 1200); see dread (v.) + nought (n.). As a synonym for "battleship" (1916) it is from a specific ship's name. Dreadnought is mentioned as the name of a ship in the Royal Navy as early as c. 1596, but the modern generic sense is from the name of the first of a new class of British battleships, based on the "all big-gun" principle (armed with 10 big guns rather than 4 large guns and a battery of smaller ones), launched Feb. 18, 1906. (etymonline)
Awards
Here are the dark and twisty nominees for the 2020 Shirley Jackson Awards
The 2021 Booker Prize Nominees
Book Stuff
Significant Edward Lear poems discovered
J.P. Morgan's Personal Librarian Was A Black Woman. This Is Her Story
For the first time, Patricia Highsmith's diaries will be available to the public.
A nun just unearthed a previously unknown Dante manuscript
Two Editors Who Showed What Publishing Should Be
One Good Thing: An incredible true crime book about the problems with true crime books
10 Crime Novels Full of Style, Plot, and Dark Humor
Booksellers Association Apologizes for Including Anti-Trans Book in Member Pack [morons...]
How to Write a Memorable Hit Man: A Conversation Among Connoisseurs
Octavia Butler's 1979 bio is an object lesson in writing author bios
Bookstore's Viral TikTok Calls Out Shoppers Who Turn Around LGBTQ+ Books To Hide Covers
Tess Gerritsen Still Prefers to Read Books the Old-Fashioned Way, on Paper
Meg Tilly on the Crossover Between Acting in Thrillers and Writing Them
A new start after 60: 'I handed in my notice – and opened my dream bookshop'
Shawshank Redemption is actually about the power of libraries
Revisiting Raymond Chandler's most iconic lines
Other Forms of Entertainment
Five Great Movies Based on Patricia Highsmith Books (That Aren't the Ripley Adaptations)
The fascinating, horrifying history behind Steven Soderbergh's new heist movie
Remembering Miss Fury – the world's first great superheroine [here's a cover]
Danny Trejo opens up about being typecast — and a close call with the Mexican Mafia
"Scarface" Startles Anew on the Criterion Channel
Murder Is My Business: In the true crime genre's latest iteration, writers, reporters, bloggers, documentary filmmakers, and podcast hosts have taken a soiled brand and turned it into a collective exercise in retributive justice, recording and correcting the history of sexual violence.
The Real Story Behind 'The Monster of Florence'
'The Many Saints of Newark' is Not the Story of Young Tony Soprano
The Strange Story of Orson Welles' Lost Film, Mr. Arkadin
Mad Men's John Slattery and Jon Hamm Reunite for Confess, Fletch
Graham Roland, Robert Redford, George R.R. Martin Making Hilleman's 'Dark Winds' Series Starring Zahn McClarnon
The Decades-Long Road Behind AMC's 'Dark Winds' Native American Drama Series
Cannes Review: Oliver Stone's 'JFK Revisited: Through The Looking Glass'
Mark Millar Returning to Spy World With Graphic Novel 'King of Spies'
Karls Monzon Organized One of The Biggest Heists in Florida History. Here's Where He is Today.
Antonio Banderas Is Indiana Jones 5's Latest Wild Acquisition
The 33 Sexiest Erotic Thrillers
8 True Crime Podcasts You Need to Listen to this Summer
Let's Talk About Sneakers, the Most Charming, Baffling Espionage/Heist Movie
of the 1990s
1980s Noir Films Are Better Than 1940s Noir Films: Discuss
Words of the Month
daredevil (n.): 1794, "recklessly daring person, one who fears nothing and will attempt anything," from dare (v.) + devil (n.). The devil might refer to the person, or the sense might be "one who dares the devil." Compare scarecrow, killjoy, dreadnought, pickpocket (n.), cutthroat, also fear-babe a 16th C. word for "something that frightens children;" kill-devil "bad rum." As an adjective, "characteristic of a daredevil, reckless," by 1832. (etymonline) [The Marvel superhero first appeared in April, 1964.]
RIP
July 1: Robert Sacchi, Who Played Bogart Again and Again, Dies at 89
July 2: Jack Downing, Cold War spy who came out of retirement to help CIA, dies at 80
July 5: 'Superman,' 'Lethal Weapon' director Richard Donner dies at 91
July 9: William Smith, Action Actor and Star of 'Laredo' and 'Rich Man, Poor Man,' Dies at 88. The 6-foot-2 Smith, who was a champion discus thrower at UCLA, an arm-wrestling champion and a black belt in the martial arts, had 18-inch biceps and could do 5,100 continuous sit-ups and reverse curl 163 pounds. As prolific as he was strong, he had a whopping 289 credits on IMDb, seemingly in everything from the '60s onward.
July 12: Charlie Robinson, 'Night Court' Star, Dies at 75
July 24: James Polk, Pulitzer winner for Watergate reporting, dies at 83
July 28: 'Extraordinary' crime writer Mo Hayder dies at 59
July 30: Jerry Granelli, drummer behind 'A Charlie Brown Christmas' and former Cornish instructor, dies at 80
Links of Interest
July 6: The baffling persistence of plagiarism in the internet era
July 6: Constructing the Perfect Villain: The Bad Contractor
July 7: Inside the Fiction Group in a Maximum-Security Psychiatric Hospital
July 7: Shirley Jackson's Love Letters
July 8: Charlotte Philby Remembers Her Paradoxical Grandfather, Kim Philby
July 9: Setting a Murder Mystery in the Real Hollywood Canteen Required Piercing a Veil of Myth and Nostalgia
July 12: Take this soothing room-by-room virtual tour of Jane Austen's house
July 15: Cocaine stash worth €9m lands on roof of home in Sardinia
July 15: In Victorian London, Dr. Thomas Neill Cream Was a New Kind of Killer
July 15: For One Writer, Rediscovering the Novels of Dick Francis Was the Answer to a Personal Crisis and a Mysterious Illness
July 16: The Louvre's Art Sleuth Is on the Hunt for Looted Paintings
July 19: Repentant thieves return Big Bird costume with a note: 'Sorry to be such a big birden'
July 19: Tablet Reveals Babylonians Studied Trigonometry Before the Greeks
July 19: The Internet Made Crime Public. That's When Things Got Complicated.
July 20: Thomas Gilbert and the Murder That Brought Down One of New York's Most Privileged Families
July 20: Fragments of Ancient Egyptian 'Book of the Dead' Reunited After Centuries
July 20: The Story of 18th Century England's Booming Graverobbing Industry, and the Man Who Inspired 'Dr. Jekyll and Mr. Hyde'
July 20: Defections and Detections: How a Sprawling Soviet Atomic Spy Network Was First Exposed
July 22: How Detective Fiction Helps A Forensic Psychiatrist in Her Work With Violent Offenders
July 22: Why Has Jeffrey Dahmer Become A Household Name, While The Names of His Victims Are Forgotten?
July 23: House of horror: Bath opens the world's first museum dedicated to Mary Shelley
July 23: There is no National crime – all crime is local
July 23: Elvis's annotated copy of The Prophet, gifted to his bodyguard and close friend, is on sale now
July 24: Who Killed the Nazi on Campus?
July 25: Some people just don't get it. Cultural references, I mean
July 25: Buried in concrete: how the mafia made a killing from the destruction of Italy's south
July 25: A Utah arrest shows the danger of laws that let government enforcers chill speech that they don't like
July 26: How an 18th-Century Cookbook Offers Glimpses of Jane Austen's Domestic Life
July 26: A Cozy Mystery Writer on the History of Class and Tea
July 27: Hobby Lobby Gives Up Stolen 3,500-Year-Old 'Gilgamesh Dream Tablet'
July 27: A Margaret Keane 'Big Eyes' Painting Stolen Decades Ago Has Been Recovered
July 27: This Story About a KKK Prison Guard's Murder Plot Is Flat Out Astonishing
July 29: Erik Larson Has a Scary Story He'd Like You to Hear
July 29: "Brother, you've got a fan now!" Read a letter from Nina Simone to Langston Hughes
July 29: Does 'The Da Vinci Code' Writer Have a Secret?
July 30: The first bestselling paperback original in the US was a work of lesbian pulp fiction
July 30: He Hired 2 Men to Kidnap His Wife. They Ended Up Drowning
What We've Been Up To
Amber
Chloe Neill – Shadowed Steel
The third installment of the Heirs of Chicagoland was a fast, fun and enjoyable read!
I mean, what's not to love when you've got vampires, werewolves and everything in-between? Even better, Shadowed Steel finally sees our heroes and heroines emerge from their legendary parent's shadows (and plot lines) to explore the mysteries and problems facing their Chicago.
(If you're not acquainted with the series – the characters in Heirs are the kids of the original series – Chicagoland Vampires. You don't have to read the original series to understand the new one – but I highly recommend it as they're brilliant and add extra layers of nuance and fun to the newer books!)
Fran
It's the writing, you see
I've mentioned before how much I love Rennie Airth's writing, and if you've read his work, I know you get it.

If you haven't, start with River of Darkness, and just keep going with John Madden's investigations. You'll be immersed in post-WWI life, and all the repercussions of the Great War.

I just finished The Decent Inn of Death, and it's got some lovely surprises. Not whodunnit, at least not for me. But like every book by Rennie Airth, it's not the surprise at the end but the whole journey. And here he takes us to visit Agatha Christie. Not literally, but The Decent Inn of Death definitely reminded me of Mousetrap.
One of the surprises is that, for the most part, the story doesn't follow John Madden. Instead, we're following his old chief and friend, former Chief Inspector Angus Sinclair, who goes to visit friends while the Maddens are away, and who gets caught up both in a mystery and a snowstorm, where there's definitely something suspicious going on. And Angus has a murder to solve, but his health isn't good, and these are stressful times.

It occurred to me while I was reading The Decent Inn of Death that I really like how Rennie Airth writes women. They're strong, opinionated, forceful, and each woman is an individual character. They're never cookie-cutter. And often, they're surprising.

For example, Lucy Madden, John and Helen's daughter, says this about marriage:

'The trouble is I can't see myself tied to any one man.' She sighed. 'The shine wears off so quickly. What I'd really like is to be one of those sultans who had scores of wives and kept them in a harem. I could probably manage with four or five – husbands, I mean. It would be so nice to be able to say, I'll have you today…No, not you…you.'
'You're joking, of course.'
'Am I?' She sent a sly glance his way.
There are several women whom you will meet during your visit at The Decent Inn of Death, and each one is unique and, in her own way, perfect, although they have all manner of flaws. But you won't become confused as to who is whom; Rennie Airth really does write women well!
JB
Bill Farley always said that they weren't Stouts but it was always nice spending time with old friends. Robert Goldsborough's Trouble at the Brownstone keeps up that trend. In his latest Nero Wolfe novel, the group on West 35th is disturbed when master gardener Theodore Horstmann is found nearly beaten to death. Only recently had he moved out of the brownstone into his own apartment and so the questions of where and how it happened are multiplied. All hands are called in to help and even Insp. Cramer is working with them – grousing a bit, of course, but everyone is working hard to find the culprit even as Horstmann remains in a coma. The solution may be unsurprising but is still satisfactory.
Stephen Hunter moves into a new world with Basil's War. The book is set during WWII, the central character is an upper-class, cheeky and glib Brit, and the action is as speedy as the plot is convoluted. It is all about getting a clue to who is the Soviet spy in British intelligence not to expose them but so that information can be slipped to them that will convince Stalin to do what the Brits need him to do. They're certain that if they just ask, he'll think it is a devious plot and refuse, so they concoct this elaborate scheme to nudge him. Got it? Don't worry, you'll see once Basil's carried out his mission. It's a delightful book – none are exactly who you assume them to be…well, maybe van Boch of the SS. It is a very different turn from Hunter but its every bit as imaginative and serious as any of his other books, but this one is topped with a deceptive icing of nonchalant, even sporty, wit.
Respected independent scholar Jonathan Marshall is also an award-winning journalist. The reviews of his new book, Dark Quadrant: Organized Crime, Big Business, and the Corruption of American Democracy piqued my interest. It's a fascinating book, beginning with FDR and moving forward through the growth of the Federal government, the Mob, the military-industrial complex (we really need to use Eisenhower's original choice of "military-industrial-congressional-complex" all the time), and the parasites who affix themselves to all concerned. He brings it forward into the Trump administration and few come out of the book not covered with filth. Many of the names you'll know – Roy Cohn, Howard Hughes, Tommy the Cork, Robert Maheu, Joseph McCarthy, Meyer Lansky, J. Edgar Hoover, Sam Giancana, Richard Nixon, on and on. Congressmen, Senators, CEOs and appointees. It's all about greed and power, without an ounce of loyalty or civic responsibility. Talk about a shadow government… The depth and scholarship of his indictment is staggering. It's simply staggering.
Granted, his tale is takes up nearly a century, and the players weave themselves deep into the country's government and fabric, surfacing here and there through the decades and, following the money, entwine themselves with a variety of public figures from different facets of power. But it was disarming to continually run into his notes of "See chapter X" throughout the book, from the beginning chapters to the final ones. It gives the book a disjointed feeling, as if you're to stop in chapter 2 to go to chapter 9 or go back from chapter 10 to chapter 5. Don't, just keep plowing through sordid history of disgusting muck. It is an infuriating read due to subject and due to his scholarship. It's an important subject and therefore an important book.
Finally, we've run into "issues" with WordPress. They've changed the way the program works making it less user friendly. To top it off, there was some sort of glitch and I lost reviews and links that I'd added. It's been very frustrating. If this newzine seems thinner and less packed with goodies, that's why.
Shop Small Businesses
Save Small Businesses